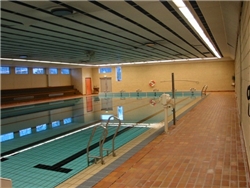 Indoor swimming keeps it going all winter, except between Christmas and New Year.
See you in Kveldehallen every Friday from 5th October 2018 to 1st March 2019.
See the events calendar on the right ("What's up") for dates. The events are called "Innebading".
Changing rooms and swimming pool available between 7:00 p.m. and 9:00 p.m.
Note! We only use the men's changing room! See the signs.
The hall has seating for visitors. Refreshments are not served in the hall, but you can bring your own coffee, preferably in an unbreakable cup. : o)
There is access to the sauna.
Entrance fee to the Swimming Hall (to be paid in the hall):
Members: 30, - NOK per session, or 200, - NOK for all bathing in the autumn. The same price for spring.
(children / youth up to age 18 years: free)
This will cover the association's expenses in connection with the rental of Kveldehallen.
Kveldehallen is located in Kvelde center, about 20 km from Larvik, about 70 km from Kongsberg and about 40 km from Skien (above RV. 32 - Siljan).
GPS coordinates: N 59° 11.490' E 9° 58.125'
The indoor swimming is ONLY open to members of associations affiliated to the International Naturist Federation (INF).
Non-members can come to try the swimming out twice, but at double price (60, - NOK).
Welcome to indoor swimming!