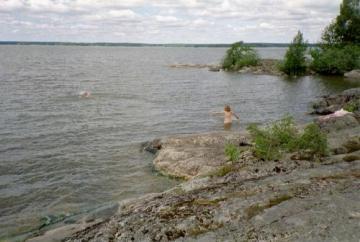 Ängsö Nude Beach is located on the western shores of the island Ängsö in the lake Mälaren, close to the Ängsö palace.
Drive E18 to Kungsåra church and turn south towards Ängsö. Follow the road past Ängsö palace to the carpark about 900 meter south of the palace. The "carpark" is just a small opening (unmarked). 
Walk along the the path from the south-west corner of the "car park" (left as seen from the entrance). The path is colour marked with orange on the trees. Keep to your left (south) when the path forks. After about 500 meteralong the path you will arrive at the the nude beach.
This is a rocky beach in the large lake Mälaren.
Phone: +46 21 103700 (Tourist office in Västerås)
GPS location N 59.5213  E 16.8529