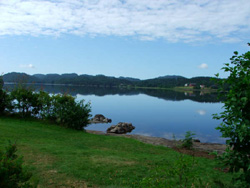 ... our own naturist paradise, we would like to share with others
We have agreed with Larvik municipality that VVNF is responsible for maintaining the recreational area.
The association will run this northern part of Roppestad recreational area as a clothes optional area.
Regarding camping in the area, we will emphasize:
In accordance with Norwegian law, we can have a caravan / camper or tent on the site for up to two days at a time.
We are permitted up to 18 residential units at the same time, as long as the safety distance of 4 meters between each residential unit is observed.
After the new agreement in spring 2017 with Larvik municipality as landowner, it is now agreed that the accommodation of caravans, mobile homes and tents in the northern part of Roppestad (the naturist area) is reserved for naturists. Others have free access, but are not allowed to stay at the naturist area.
Welcome to Roppestad!